Pizza is the perfect pairing for any holiday celebration or gathering. It's quick and easy…and, best of all, everyone loves pizza.
Pizza Hut is crossing cooking off everyone's to-do list by delivering the ultimate gift for hungry families on a budget: the Triple Treat Box. With three courses in one festive-wrapped box, it's an easy holiday decision for those nights when you're too busy to cook or just craving a family-favorite — pizza!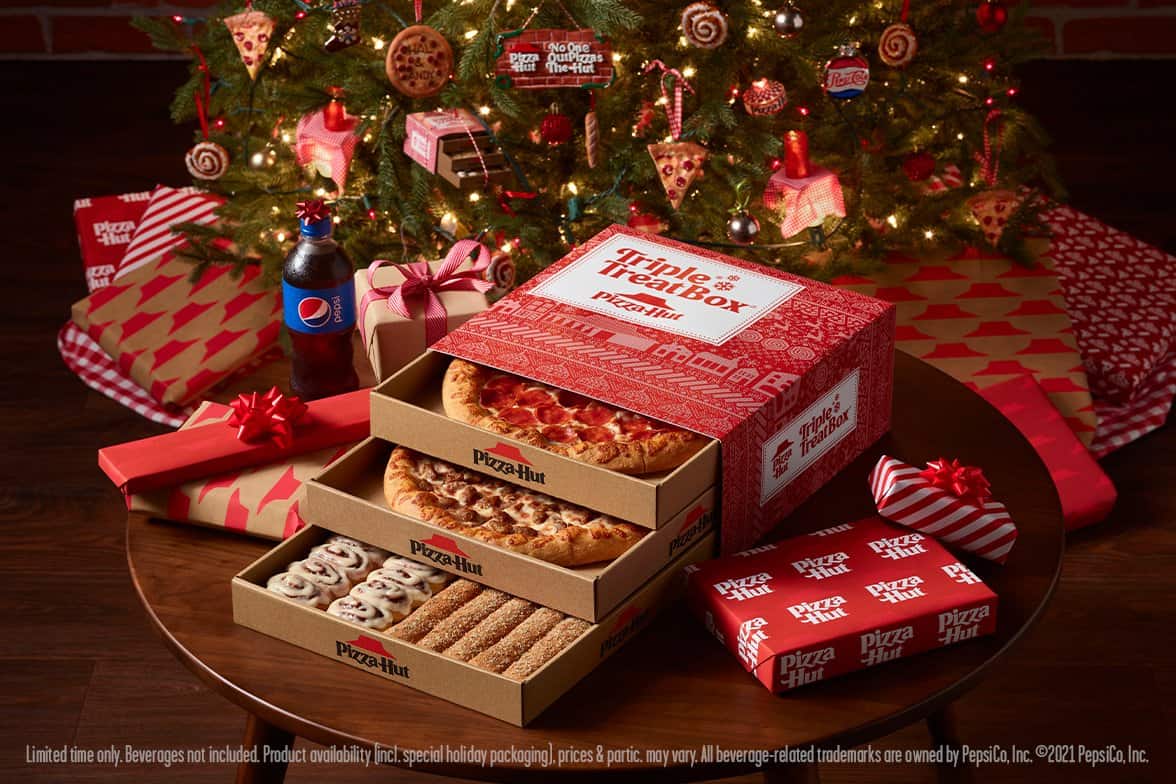 The Triple Treat Box features a three-in-one meal, packed with two medium one-topping pizzas, five breadsticks and 10 Cinnabon Mini Rolls. (Pizzas are available in Hand-Tossed or Thin 'N Crispy crusts. Choose Original Pan crust for a little extra.)
The boxed meal deal is available for a limited time at participating locations — starting at $22.99. (The price varies by market.) You can upgrade the pizzas at an additional cost.
Customers can opt for contactless delivery, carryout or curbside pickup.
At regular price, the box includes about $40 worth of food, so it definitely has big savings all wrapped up inside.
NOTE: Not all locations offer the same national promotions. As a result, price and participation may vary. It's always wise to call ahead for verification in your area. We strive to keep up with "limited-time offers," but deals may end without notice.
Discount on Tickets to Legends in Concert
Experience the most wonderful time of the year with a discount on tickets to Legends in Concert world-renowned tribute artists in the greatest Christmas show in Myrtle Beach. Not only do they perform signature classics, but they also come together to bring you the magical holiday music of yesteryear. Enjoy the gift of two shows wrapped into one spectacular evening!
SHOW LINEUP: 11/03/2021 - 1/01/2022: Aretha Franklin | Reba McEntire | Elvis Presley | The Blues Brothers
Hungry For More Food Deals
Thursday, January 27, 2022
Friday, January 28, 2022
Saturday, January 29, 2022
Sunday, January 30, 2022
Monday, January 31, 2022
Tuesday, February 1, 2022
Wednesday, February 2, 2022
Thursday, February 3, 2022
Friday, February 4, 2022
Saturday, February 5, 2022
Sunday, February 6, 2022
Monday, February 7, 2022
Tuesday, February 8, 2022
Wednesday, February 9, 2022
Thursday, February 10, 2022
Friday, February 11, 2022
Saturday, February 12, 2022
Sunday, February 13, 2022
Monday, February 14, 2022